GRM Document Management, a leader in health information management solutions, exhibited at the 84MdHIMA Annual Meeting. The event, held at the Baltimore Convention Center in Baltimore, MD, drew over 350 attendees and featured exhibits from GRM and more than 30 other vendors.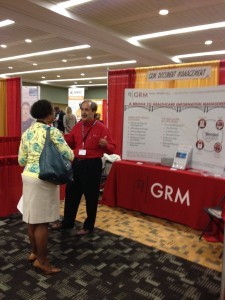 GRM's Washington D.C.and Baltimore teams were on hand throughout, answering questions, networking and introducing attendees to the company's unique offerings.
The GRM Blended Solution, especially, generated interest in that it seamlessly combines, in one customized package, the benefits of multiple RIM services such as:
Physical Document Storage
Electronic Document Management
Data Protection
Certified Destruction
Along with promoting their Blended Solution, GRM handed out information about their newest value-added service, Healthcare Release of Information (ROI). ROI is now part of GRM's suite of Health Information Management solutions.
Connect with GRM today on the various social media channels for all of our latest news, case studies and updates!
Facebook | Twitter | LinkedIn | Google+ | Pinterest
More Photos from the MdHIMA Event: