GRM Document Storage – Better Prices. Better Service.
Chances are that you've been with your current document storage provider for a good number of years. And, chances are, they're rewarding you for your business with constantly-increasing prices and increasingly-poor service.

*Pending size and length of contract commitment.
OFFER EXPIRES SEPTEMBER 1, 2021.
Better pricing. Better service. Better technology. And a business model that works for the customer. Learn more about all of the things that set GRM apart.
CLIENTS EXPRESS WHY

THEY MADE THE MOVE.
GLOBAL 50 LAW FIRM SAYS THEY SHOULD HAVE MADE MOVE YEARS AGO
A Global 50 law firm with over 1,400 attorneys had approximately 350,000 boxes in storage with a major document storage company for over 20 years.
Reacting to rates increasing and service levels concurrently decreasing, the firm initiated conversations with GRM. They ultimately made the decision to move to GRM after they spoke to several large law firms that had already left the same vendor and moved to GRM. The firm reported that the conversations with reference firms all yielded a similar sentiment — that they wish they hadn't waited so long and now that they were with GRM, they regret not having made the decision to move years ago.
A GRM national account manager and a team of local account managers were assigned to the business to overdeliver on the service front and a double digit reduction in fees brought the account in line with market pricing.
LOCAL GOVERNMENT SEEKS PARTNERSHIP
A mid size New Jersey municipality was storing approximately 3,000 cubic feet of records with a large national storage provider.
In addition to compounding, contract-dictated price increases being implemented on an annual basis, client service had become virtually non-existent and the municipality reported that they were rarely able to reach a live person when they called their storage provider.
Trapped in this sub-par relationship, they reached out to GRM. In partnership, GRM and the municipality developed a mutually-beneficial plan to sever the relationship with the incumbent provider. Upon GRM taking over, the client has cited a true local orientation as central to the success of the partnership and has expanded their relationship with GRM to include cloud-based digital services.
NATIONAL NOT-FOR-PROFIT SEEKS RELIEF
One of the nation's leading not-for-profit organizations approached their large document storage partner multiple times to restructure their increasingly onerous fee structure. In one of their last conversations, the storage provider informed them of a new 10% price increase.
Already in conversations with GRM but having not yet made the decision to move, the not-for-profit came back to GRM, realizing that the "cost of doing nothing" had become too great. Working in cooperation, GRM and the client developed multiple scenarios to bring the business to GRM and landed on a mutually beneficial solution that included minimization of upfront costs, adjustment to market rates and infrastructure and staffing that delivered superior service.
"We transitioned from (large document storage company) and GRM has been a breath of fresh air — better pricing and an entirely different customer service experience, in all the best ways."
– Mid-size law firm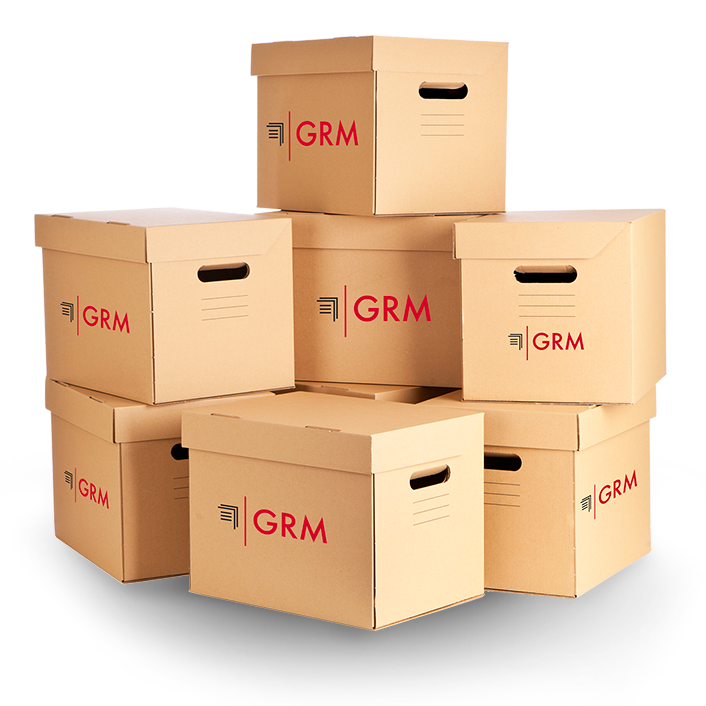 Better Price. Better Service.


And, There's a Lot More to Like About GRM…
Company Background: In business for over 30 years, we have operations in major metros around the US and internationally.
GRM maintains offices in 15 major metros across the U.S., including Atlanta, Austin, Baltimore, Boston, Chicago, Dallas, Houston, Indianapolis, Los Angeles, Miami, New Jersey/New York, Philadelphia, San Diego, San Francisco and Washington, D.C. GRM also has facilities in Lima, Peru; Rio de Janeiro, Brazil; and Bogota, Colombia.
Facilities: Our storage facilities are among the finest in the industry; with 24/7 security personnel, security technology and state-of-art fire suppression systems.
Clients: Serving nearly every industry, we count some of the largest companies in the country as clients.
Services:
Storage
Documents are kept secure in our facilities. And state-of-the-art digital inventory management puts access at your fingertips.
Scanning/Conversion
Each of our facilities has a high-volume scanning center and dedicated staff that process millions of pages per month.
Destruction
Secure destruction services are available at all locations.
Compliance & Governance
When it comes to Compliance and Governance, our experience and technology are unbeatable.
Digital Solutions
GRM's digital capabilities set us apart from our competitors and make us a future-proof document management partner.