Higher Education Document
Management Software
Providing campus-wide content management for every department.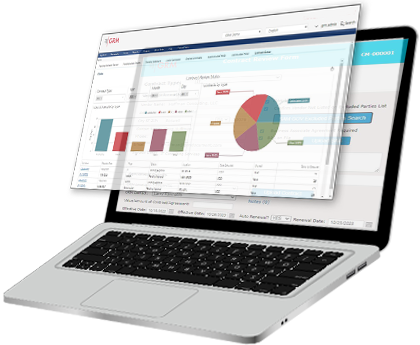 Expectations for improved automation and electronic service delivery are increasing throughout the higher education community. Students, faculty and staff are demanding improvements in operational practices that make it easier to locate information, collaborate with peers and get work done.
GRM's document management software for higher education, powered by VisualVault, gives institutions a complete view of student records and improves business processes across the entire campus. GRM's solutions speed the flow of information, protect the confidentiality of student records, improve cash flow, and put university professionals in a position to make informed, critical decisions. And, because VisualVault can integrate with student information systems, it provides a single source for the comprehensive, accurate data required to stretch budgets and remain competitive. Digital transformation in education delivered.
Learn more about how Digital Transformation Solutions Accelerate the Business of Higher Education
A Modern Platform For A Modern Environment
Colleges and universities are undoubtedly environments that promote progressive thinking and innovative approaches to solving problems. Perhaps more than any other, these institutions deserve the tools required to more efficiently manage the volumes of paperwork and processes that take up too much time and hinder serving the student population.
This type of environment is best served by VisualVault, a powerful, open, cloud-based content services platform. Utilizing a collection of powerful tools, VisualVault delivers a broad range of information management solutions that integrate seamlessly with your existing systems and deliver unprecedented efficiency, cost savings and visibility into operations.
Components Of Our Platform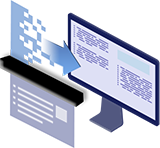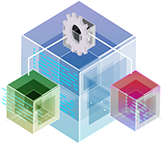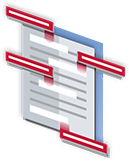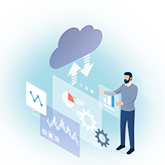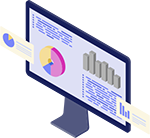 Each of the five components of our powerful ECM platform deliver unique capabilities that serve the information management challenges of Higher Education. Collectively, these components provide compelling, easy-to-implement, high-value software solutions for higher ed. Available in one flexible platform, these marketplace-proven solutions are quickly and easily implemented.
Solutions For Every Corner Of Your Campus
Enrollment & Admissions
Academic Advising
Financial Aid
Student Onboarding
Transcript Capture & Transfer Credit Evaluation
Student Health
Alumni & Donor Relations
Human Resources
Facilities Management
Financial Services (AP, Contracts, etc.)
Enrollment & Admissions

Enrollment & Admissions
With VisualVault, you are able to save time and accelerate administrative processes associated with all aspects of enrollment. The VisualVault higher education enrollment software solution integrates with your student information system to automate these business processes, providing complete visibility into how your pool of applicants aligns with your target populations, allows you to provide timely responses to applicants and efficiently achieve enrollment goals.Additional benefits for Enrollment and Admissions include:
Maximize staff efficiency and productivity by consolidating documents and records in a secure, centralized repository
Automated admissions processing enables the auditing of student documents for accuracy and missing information
With VisualVault's Advanced Capture functionality, you can accelerate the time required to capture student transcript data and credit transfers
Because VisualVault integrates with student information systems, universities have instant access to all financial aid records in a single platform
Additionally, with Actionable Analytics, admissions personnel have management dashboards for complete visibility into how the applicant pool aligns with target populations and can model enrollment scenarios in a real-time mode.
Academic Advising

Academic Advising
Without the proper systems, it's common for there to be information that is missing, documents that are lost, inaccurate data or outdated files, making it difficult for academic counselors and faculty to provide academic advising services. This shortcoming ultimately impacts student satisfaction and overall program success.Using VisualVault's iForms, process automation, and analytics functionality, academic advisors are ensured of having the most current and accurate information. Using powerful management dashboards, information can be analyzed and modeled in a real-time mode. Student files are automatically routed to the appropriate counselor or faculty member, and students are provided with the updated information that they require.The entire process improves the efficiency and effectiveness of advisors, counselors, and administrative staff, as student information is immediately available to be sorted, filtered, and analyzed via our student advising software solutions.
Financial Aid

Financial Aid
Managing the process with reduced staff and budgets, many financial aid offices spend weeks printing, filing and managing countless forms for potentially hundreds or thousands of students applying for aid each year. These offices can quickly get overwhelmed. With VisualVault's advanced capture, iForms, and process automation solutions, institutions are able to quickly and efficiently process high volumes of financial aid applications.
Documents are automatically routed to the correct financial aid counselor for review and approval, accelerating processing time.
Universities are able to implement an online student portal where all financial aid forms (iForms) can be made available electronically.
An online financial aid checklist on the student portal can be updated when new forms are submitted, highlighting exactly what's missing.
VisualVault integration with student information systems allows financial aid professionals immediate access to required documents.
Automatic alerts and notifications inform staff of missing documents or information automatically.
By using financial aid software for higher education and automating the financial aid process, institutions are able to distribute financial aid options sooner, encouraging students to enroll and bolstering efforts to meet enrollment objectives.
Student Onboarding

Student Onboarding
One of the most time-consuming and costly processes for higher education is student enrollment, registration, and onboarding. Because a high percentage of these processes are still paper-based, Admissions and Registrar's offices struggle to keep up with ever-increasing demand. With VisualVault student onboarding software solutions, you can take full advantage of workflow automation to streamline school business processes while substantially lowering their cost.
Using iForms and automated workflow, task management lists will guide students through important activities they must complete during the onboarding period. Based on each institution's business practices, dependencies may be identified to enforce the order in which tasks are completed, preventing students from progressing through activities until all necessary prerequisites have been completed. iForms can be implemented and tracked for the numerous onboarding requirements, such as a Community Compact / Expectations and Guidelines, Required Training, Health Assessment, Emergency Notifications, Contact Tracing, Immunization Record, COVID-19 Test, and many others.
Transcript Capture & Transfer Credit Evaluation

Transcript Capture & Transfer Credit Evaluation
Delivering timely decisions to students is more important than ever in today's highly competitive environment. A result of this competition is that you're becoming more dependent on transfer students to meet your annual enrollment goals. However, reviews that are manual and paper-based make these processes slow and unmanageable, delaying equivalency decisions.
GRM's Campus Management solution for transcript processing quickly captures and processes even the most complex transcript formats. VisualVault's Advanced Capture technology intelligently extracts student and transcript data, imports, indexes and analyzes it, while at the same time automatically updating the student information system. Additionally, it validates coursework against the articulation database for fast course equivalency decisions. The result is that students receive decisions in days instead of weeks or months, allowing the institution to enroll transfer students sooner and meet enrollment goals more quickly.
Student Health

Student Health
As a leader in providing ECM solutions to some of the largest healthcare organizations in the country, GRM's student health records software solutions have been developed and refined over time, taking into account the evolving best practices of the healthcare industry. Experts in system integrations, capture, conversion and transmission of data, GRM Student Health solutions deliver the data and documents you need to deliver superior care and enjoy superior student satisfaction.Administrative and Clinical staff can access and route documents, secure online signatures, process check-ins, capture insurance data, and execute all of the other laborious healthcare-related processes that take time away from the actual giving of care.
Alumni & Donor Relations

Alumni & Donor Relations
VisualVault's alumni and donor relations software can help you build for the future by promoting and strengthening donor relationships: alumni communications, reaching out to first-time contributors, keeping in contact with regular donors and initiating legacy giving programs.
Using VisualVault, institutions can create a folder for each donor, storing all related documents, and providing the department an easier method to search and track donor information. Advancement offices and foundations are able to fully automate the receipt and processing of gifts and related documentation, integrating with advancement CRM systems, and providing electronic management of all gift payments and related documents.
With GRM's Campus Management solution, advancement offices are able to:
Access information from a secure, centrally managed donor file.
Interactively update files with content from a variety of sources.
Speed the disbursement of funds to programs, projects, scholarships, research initiatives, and other institutional priorities.
Alleviate processing bottlenecks and burdens to free staff for higher-value donor-facing activities.
Keep donor records up-to-date and free from manual errors.
Human Resources

Human Resources
Managing vast amounts of employee data from multiple sources and gaining true information governance in an increasingly complex landscape is one of the biggest challenges facing higher education HR professionals. GRM's education HR software solutions seamlessly integrate with existing HCM / HRIS systems to give colleges and universities full control of their HR data in a single digital environment.
VisualVault is designed to help improve the HR department's overall efficiency through easily implemented advanced digital applications. We can help you:
Gain visibility and control of data
Accelerate the candidate selection process
Automate manual processes
Improve compliance
Minimize risks & avoid errors
Garner insights
HR functions such as payroll, PTO requests, employee status changes, and other processes are streamlined to ensure that HR personnel have more time available to focus on academic growth, talent development, better project management, inter-departmental collaboration, and improved alignment of administrative staff with institutional strategy.
Facilities Management

Facilities Management
Regardless of the size of the institution, managing a college or university's facilities is an enormous task. Responsible for ensuring the planning, design, construction, operation, and maintenance of all buildings and grounds, this department can benefit from VisualVault's higher education facilities management software solutions. These solutions:
Organize architectural drawings, schematics, safety documents, sustainability reports, and operations manuals by school so they're easily accessible.
Enable staff to retrieve blueprints, maps, and E-sized drawings onsite from wireless-enabled laptops.
Automate the project approval process, allowing supervisors to easily prioritize work requests according to urgency.
Use audit trails to monitor and report system activity to administrators.
Assign security rights and privileges by group or individual user.
Financial Services (AP, Contracts, etc.)

Financial Services
Accounts Payable
Accounts payable departments are faced with a daily barrage of invoices and other documents pouring in from various locations and in various formats. Capturing and organizing this mountain of data is a constant challenge, but many of the current processes are inefficient and error-prone. Lengthy invoice approval processes can greatly decrease productivity when there isn't a collaborative infrastructure in place that can effectively manage the flow of pending documents as they make their way to different approvers.
With VisualVault's financial software solutions for education, colleges and universities are able to target and remove inefficiencies and streamline accounts payable document management procedures. The result is unprecedented AP processing speed and accuracy and significantly lower expenses associated with AP operations.
Contract Management
Colleges and universities, and other higher education institutions face unique contract management challenges. You must address keeping track of intellectual property agreements and agreements with general service providers, drafting, negotiating, and approving a wide variety of contracts with vendors, partners, suppliers, and employees every year. Actively managing these contracts and maintaining formal relationships with these sources can be difficult and time-consuming for many universities that still utilize manual, paper-based processes.
VisualVault's Contract Management functionality helps colleges and universities save time, ensure compliance, and promote contracting best practices. It manages and automates the entire contract process including contract requests, approvals, redlines, electronic signatures, milestones, notifications, reporting, and analytics.
As experts in Information Governance, GRM provides comprehensive retention schedules for contracts and associated documents. The entire retention process is completely automated, eliminating the time-consuming activities of filing and searching for contracts and documents, and tracking expirations.
Seeing Is Believing. Analytics That Deliver Actionable Insights
Important data is sitting in your SIS. It's in the row of file cabinets in Admissions. It's in multiple formats on that PC in the corner of the office. It's stacked up on your desk. Data is everywhere. So, you piece it together but you really never have full confidence in the data or your resulting decisions.
GRM possesses the expertise, experience and tools to capture all of that data, regardless of format, organize it, process it and deliver it to you in a graphical, easy-to-understand analytics dashboard. And, you'll even get a peek into the future with our machine-learning powered predictive analytics. A comprehensive view of the past, present and future arm you to manage processes and make decisions based upon facts, not guesses.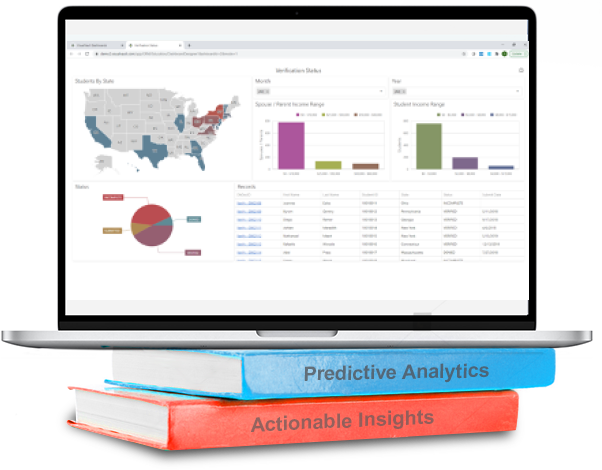 You can reach out to us by phone at 888.907.9687, or fill out the form below