Complete Data and Workflow
Management for Insurance
COMPLETE DATA AND WORKFLOW MANAGEMENT FOR INSURANCE
Whether it's providing faster, more cost-effective customer service or getting insurance data in the hands of your sales specialists, secure accessibility to information is central to an insurance organization's day-to-day productivity. So are document management software, workflow management software, and enterprise content management systems to improve business workflows, and productivity.
Our information management solutions provide insurers with unprecedented accessibility to their documents in storage and digital document management systems, faster, more efficient document processing and greater insight into their business processes. We'll help your organization increase their processing threshold, lower operational costs and boost company profitability.
WATCH TO LEARN ABOUT
OUR ECM SYSTEM
GRM's document management software is built with features like ICR, OCR, data capture and workflow automation software to make document creation, editing and sharing a breeze.
END-TO-END



RECORDS MANAGEMENT
We offer complete record life cycle solutions that start with the secure document storage and management of your paper records and culminate with their proper destruction. By leveraging our record management solutions, you can limit the compliance exposure that stems from keeping your records stored onsite and enhance the organization of your documents through our PrecisionPlus tracking system.
In the event you require immediate access to a stored record, we're able to digitize your requested documents and submit them to you electronically through our e-Access customer portal. We can also facilitate a transition to a less paper dependent environment by taking care of your larger physical to digital conversion projects for you as well. Each of our document scanning centers are staffed with trained imaging personnel and equipped with the best document scanners on the market.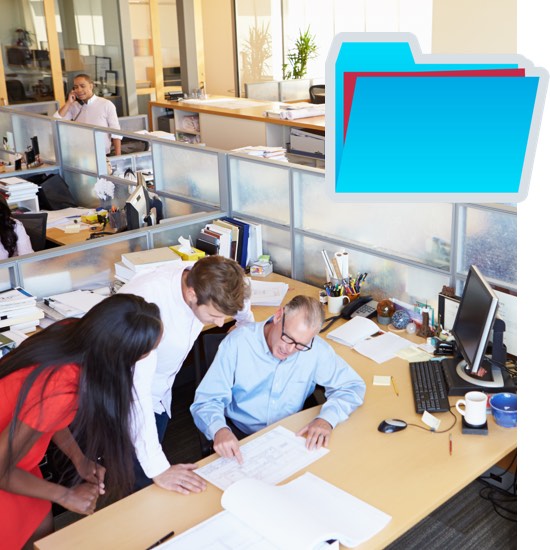 A UNIFIED PLATFORM



OF INFORMATION
Our cloud-based repository provides authorized users with access to all business information — including isolated data housed in core legacy systems. By implementing our vendor neutral archive solution, scattered silos of digital information can be unified and presented through a single viewer interface; thereby simplifying and speeding up the process of accessing business data.
Not only can sales agents or customer representatives leverage important business data, but administrators also have the ability to gain valuable insights into the performance of certain departments and whether or not the sensitive information is being managed correctly. Any miscues in terms of records management processes, compliance and proper security protocol can be immediately identified and corrected.

ACCELERATED

DAY-TO-DAY WORKFLOWS
Insurers' ability to serve more customers and secure more business is significantly limited by the intense volume of claims, grievances and other insurance documentation they must process. The processing of these forms is time-consuming and requires careful review by insurance agents to make sure they reflect accurate information.
Through our intelligent form technology, iForms, physical and digital forms such as insurance claims and customer grievances can be captured and relevant data can then be leveraged to auto-populate other insurance documentation. Consequently, the manual data-entry aspect of these processes is eliminated and the probability of clerical errors is reduced significantly. Now, insurance companies can enjoy lower operational costs and faster processing speed while taking on more business than before.