Release Of
information Services
Optimizing the release of medical information by increasing accuracy,
reducing cost, and improving the customer experience.

At GRM, we recognize that so many of our clients engage us for our ROI services because they're being forced to do more with less staff, are responding to an increasingly large number of audits and they're struggling to keep up with a constantly evolving set of government regulations. They know that these dynamics put them at greater risk of making medical ROI errors, creating confidentiality breaches and the resulting liability.
For 30 years, GRM has been a leader in information management. We understand the business of healthcare and have a long history of providing a range of technology solutions to many of the largest, most well-respected healthcare organizations throughout the U.S. 
A FORMIDABLE COMBINATION OF TECHNOLOGY, EXPERIENCE & SERVICE
Ultimately, our clients rely on our HIPAA- and HITECH-compliant solution because of our unique and compelling combination of technology, experience and customer service – that collectively increases accuracy, dramatically reduces costs and delivers a more effortless customer experience.
The backbone of the GRM Medical Release of Information service is VisualVault, a highly-secure closed cloud-based enterprise content management (ECM) platform. The core components of this platform are ideally-suited to deliver services such as ROI that demand highly-secure processes that often require the automated extraction and organization of data.
From its advanced capture capabilities to its workflow automation capabilities to its sophisticated analytics functions, The HIPAA-compliant VisualVault platform delivers the functionality and management tools required to deliver efficient, fast, and nearly-error-free ROI services.
GRM has deep ties to the healthcare industry. Providing a range of technology solutions to some of the largest and most well-respected healthcare organizations in the country, GRM understands the business of healthcare and is steeped in the technical integrations with third-party systems that house, process and report upon patient records.
Additionally, GRM has been a leader in information management services for over 30 years and expertise in compliance and governance is one of the central components of this experience.
Claims of "great customer service" often comes across as "lip service" but it is something that sets GRM apart. While the business is driven by technology, we recognize that humanity is central to the business of healthcare and patient health. So, our approach to customer service is defined by attentiveness, availability and follow-up. Some things require the human touch…and happy, satisfied customers is one of them.
Components Of Our Platform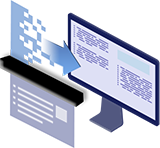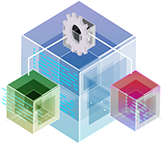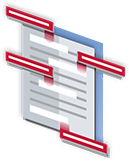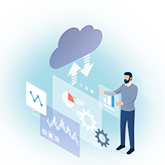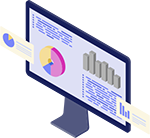 Efficient & Secure
Medical Release Of Information
One of the things that makes VisualVault so well-suited to serve as an ROI platform is its integration capabilities – which includes integration with EMRs, billing, and imaging systems. These technical integrations and smooth exchange of data simplify and accelerate the ROI fulfillment process. In addition to integrations with EMR platforms, VisualVault's modern architecture allows for an automated, comprehensive, efficient solution. One example is the creation of a connection between EMR, the GRM ROI solution, and the GRM CareConnect patient referral management solution. With the three solutions working seamlessly, the entire process of an appointment being made with a newly-referred physician, an ROI request being logged, a patient record being retrieved from the EMR, and then being passed on to the new physician could take place almost instantaneously and without human action.
Gone are the days of ROI requests only being submitted by phone and fax. Our online ROI portal makes it simple for patients, healthcare providers, insurance companies, lawyers, and court systems to request information online using our Release of Medical Information Form.
This intelligent form expedites the Release of Medical Information request process by:
Integrating with existing data management platforms and data repositories, as well as ROI legacy software.
Immediately connecting requestors with GRM to create valid requests in real-time, eliminating paper requests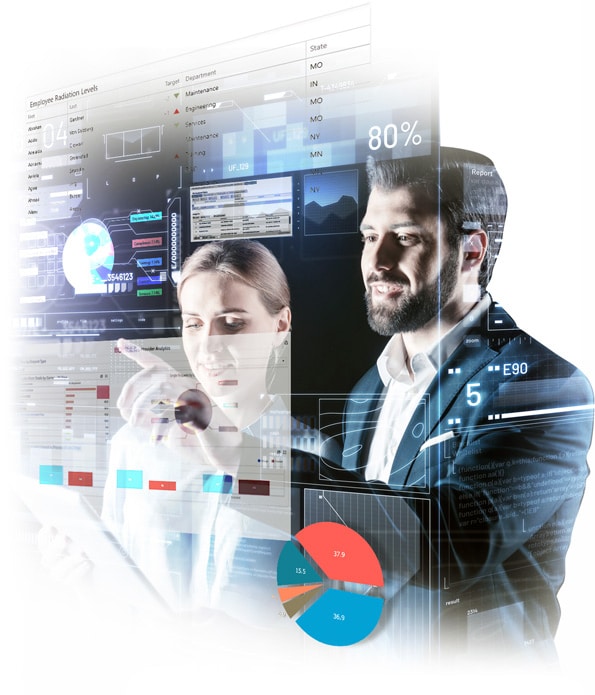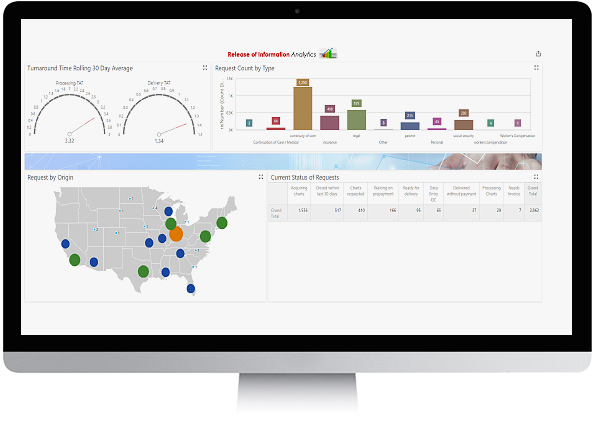 Delivering
Heightened Visibility
Our Release of Medical Information solution further reduces the risk of missed deadlines by providing valuable insights such as operational reporting to the executing ROI team and predictive and actionable analytics to management. Sophisticated analytics are delivered via a graphic-rich dashboard, providing unprecedented business insights. Our platform's predictive and actionable analytics features identify records and requests that are in danger of missing the processing cutoff period. It determines which data is missing and automatically alerts all relevant parties so the issue can be corrected and the ROI request fulfilled on schedule. Additionally, these custom dashboards provide visibility of open requests, aiding with operations and increasing productivity.
Information can be released in a variety of formats including paper, digital, and the direct delivery of data to EMRs or even archived EHR data systems.
Other Key Disclosure
Management Services
GRM's ROI Solution produces a more efficient and smooth workflow when it comes to routing payer audit requests. Requesters can submit and manage requests through our ROI platform. Once the requested documents are ready to view, requesters are provided with a link to a dashboard within the ROI platform, which provides simple, secure access to the proper information and documentation. Delivering and routing these requests electronically greatly reduces costs and makes the ROI process more efficient. Your payors will see dramatically new efficiency with your audit requests and your staff will be given more time to focus on patient care.
Data collection simplified. GRM recognizes that with most continuance of care visits, the new healthcare provider will need a copy of the patient's previous medical files. Our ROI platform streamlines this request process and allows healthcare providers to focus on patient care. GRM works with physicians and processing companies nationwide to retrieve the files, collect them, and organize them digitally from one secure platform.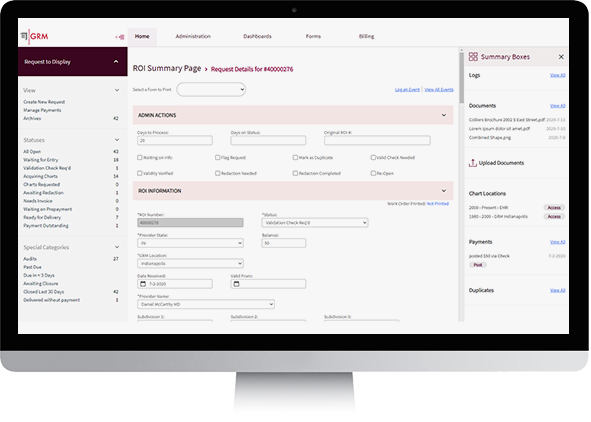 HEALTHCARE RELEASE OF INFORMATION FORM
For new healthcare Release of Information requests and tracking of existing requests, please use our ROI application. For any other product-related inquiries, please use form below.
You can reach out to us by phone at 888.907.9687, or fill out the form below