EHRConnect
BRIDGING THE GAPS
IN PATIENT DATA MANAGEMENT.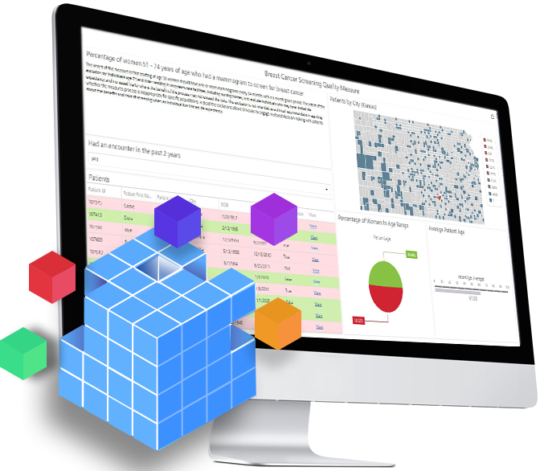 A single, collective view of data about a patient within your network likely doesn't exist; as episodes of care are housed in multiple EHRs. With our EHR Consolidation capability, clinicians can have an up-to-date view of a patient's health across your organization and across time in our Patient Care Summary. This comprehensive Patient Care Summary, automatically updated every day, is led by a synopsis of the patient's last medical care delivered by the network and provides a topline overview of the engagement.

Our Patient Health Analytics offering gives your IT department a powerful set of tools designed to perform predictive analytics on vast quantities of clinical data gathered from multiple EMRs across your organization. This is the Big Data that yields the trends, conclusions and insights that yield better patient care.

Under scenarios where it is determined that an active EMR is no longer required and that the only role it serves is housing legacy patient records, GRM can transfer the data to VisualVault; maintain the integrity of the data, retire the old EMR and deliver substantial savings on cancelled EMR licensing and maintenance fees.

Chart Acquisition & Verification
This solution is capable of reducing Days Sales Outstanding from weeks to days by identifying patient chart discrepancies early in the claims submission process. Our platform uses customized workflows to identify errors and patient chart discrepancies such as missing signatures and other requirements, immediately sending notification of missing chart components back to the appropriate parties for correction or completion. This ensures that inaccurate or incomplete claims do not prevent the submission and payment processes from being completed within the required deadline. By virtue of its ability to cut Days Sales Outstanding from weeks to days, Timely Filing Denials can be reduced by as much as 70%.

Accounts Receivable Workdown
When information is housed in multiple old patient accounting systems, the risk exists of that data disappearing or becoming inaccessible. Some accounts may become uncollectible as a result. Our AR Workdown solution eliminates this risk by extracting records from legacy accounting systems and housing them in VisualVault.
WATCH TO LEARN ABOUT
EHRCONNECT
GRM's EHRConnect solution provides innovative solutions that deliver valuable patient clinical data and patient financial data services that your EHR alone simply can't.