Health Information
Management Solutions
Reduce your HIM department expenses by 50%.

Whether you're facing budget challenges or staffing challenges — or both — GRM's HIM Automation Solutions may be exactly what you need. It's a combination of services, delivered by our cloud-based content services platform and our expertly-trained staff, that's capable of reducing your HIM department expenses by 50% or more.
Watch To Learn About
How You Can Reduce Him Expenses By 50%.
A combination of Clinical Document iFiling, Healthcare ROI and Medical Record Retrieval services.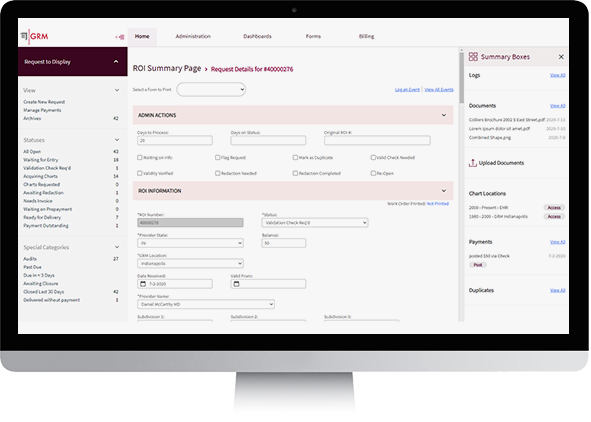 Healthcare Release of Information
The second GRM service that can reduce the human resource demands of your HIM department is our Release of Information service.
Our secure, HITECH and HIPAA-compliant platform delivers the functionality required to deliver efficient, fast and nearly error-free ROI services.
The platform's advanced capture and workflow automation functions are ideally-suited to deliver services such as ROI that demand secure processes and automated extraction and organization of data. And simple integrations with EMRs, billing systems and imaging systems enable a smooth exchange of data and accelerate the ROI fulfillment process.

Clinical Document iFiling
Every HIM department spends an inordinate amount of time and valuable resources shuffling through, sorting, scanning and uploading documents — and manually inputting data into their EHR.
Utilizing our cloud-based ECM platform (enterprise content management), intelligent forms and robotic process automation technologies, GRM systems identify index and document type information and upload the proper patient data into the proper place in your EHR — processing patient healthcare records by machine 24 hours a day.
This process of medical record indexing can effectively eliminate any backlog of patient medical records, give healthcare providers more immediate access to important patient data and dramatically lower your labor costs.
Why Choose Grm For Your Him Department?
Our HIM (healthcare information management) Automation Solutions are an unbeatable combination of advanced technology and operational excellence — delivering reduced cost, improved accuracy, reduced liability and an improved patient experience.
So, whether you're experiencing difficulty hiring qualified staff, looking to reduce your expenses or simply to redeploy HIM staff to other more high-value functions, consider GRM's HIM Automation Solutions.
GRM can also request and retrieve medical charts and records on your behalf from other practices in order to accommodate transfer of care requirements or related circumstances that require a secure exchange of medical information.
The process is initiated online by a request being submitted via an Intelligent Form. And once the document is secured, it can then be consumed by our online platform — then the Clinical Document iFiling takes over — with Robotic Process Automation efficiently processing the data and automatically indexing and filing electronic health records within the EHR.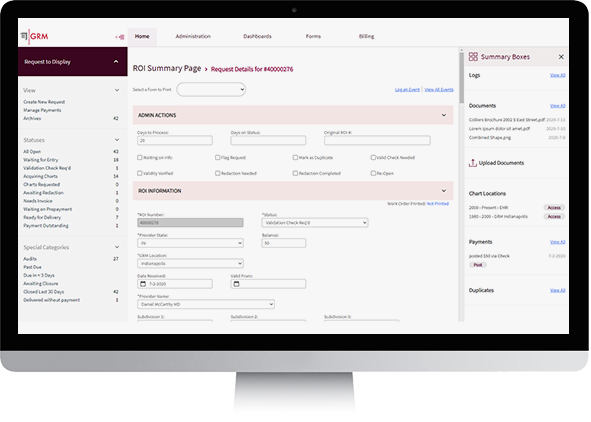 Solving Your HIM Department's Toughest Challenges:
CAN AUTOMATION ADDRESS BUDGET & STAFFING ISSUES?
Executives from GRM and Chief Executive Officer & President from CCI Health & Wellness have a discussion about the toughest challenges that HIM departments are currently facing and how automation can address budget and staffing issues that come with those challenges.
You can reach out to us by phone at 888.907.9687, or fill out the form below