Data Protection Services
GRM DATA PROTECTION SOLUTION
Are your data protection solutions up to date? Is it becoming too expensive to protect your data yourself? Are you looking for a scalable data backup and restoration solution? GRM provides a scalable, cost-effective data protection suite that includes cloud data backup solutions, enterprise content management systems (ECM), business process management, document and data restoration, disaster recovery, and a full range of document management software.
Access your critical data and records when you need it. Sleep better at night knowing you have the best data protection security team in place to guard against unforeseen events, malicious behavior, and both natural and unnatural disasters. Also, inquire about our offsite document storage solutions, cloud storage, mail scanning, and document scanning services.
GRM VisualVault system is featured in The Forrester New Wave™: Cloud Content Platforms – Multitenant SaaS, Q3 2019 – Read the Report Now
WATCH TO LEARN ABOUT OUR
DATA PROTECTION SERVICES
GRM's VisualVault is built with features like ICR, OCR, data capture, and workflow automation software to make document creation, editing, storing, and sharing a breeze. This, combined with our backup solutions for business and secure data protection software, completes our suite of secure document management solutions.
ADVANCED



DATA PROTECTION SERVICES
We utilize the latest data protection and storage technologies on the market to make sure we stay ahead of the curve.
From the beginning of the data transfer process to the end, all data is firewall-protected and end-to-end encrypted.
We provide around-the-clock IT monitoring with regular security updates.
We'll work with your IT department to make sure we understand your data protection needs and create the ideal security program for your company in the context of your digital records management needs.
Check on your digital files through our eAccess Records Management tool, a web-based portal where you can view your entire online inventory.
Our security processes adhere to Safe Harbor and PCI regulations.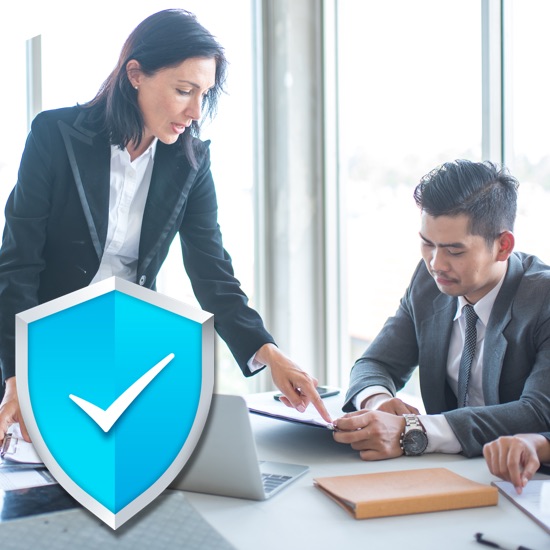 DISASTER DATA RECOVERY



SERVICES
Data recovery & disaster services are included in the data protection services suite.
All stored electronic files and data are backed up securely in the event of an unforeseen disaster.
Our disaster recovery solutions can serve organizations of any size, and data recovery usually happens within minutes of a disaster situation.
We employ the use of primary and secondary cloud servers as our data backup solution, so there's little, if any downtime on mission-critical processes.
Files are backed up and secured on offsite server centers located in areas with low vulnerability to natural disasters.
Our data restoration services are SOC2 and SSAE16 compliant, making it an ideal offsite backup solution.