Efficient pathology storage is crucial for laboratories to provide top-quality patient care, and this can only be achieved by combining both physical and digital process solutions. In this blog post, we will discuss the importance of integrating GRM's digital pathology lab management software in streamlining the flow of information and improving efficiency in pathology storage and processes.
Streamlining Pathology Storage with GRM's Digital Pathology Lab Management Software
Leading pathology labs rely on GRM's comprehensive digital workflow management software to optimize their lab operations. By separating lab requisitions and pathology samples at the outset, GRM's digital pathology lab management software eliminates inefficiencies and manual errors that are often a part of traditional lab requisition and pathology sample management processes.
Once decoupled from pathology samples, lab requisitions are immediately uploaded to VisualVault, GRM's cloud-based platform. This allows secure access to lab requisitions by multiple parties in multiple locations, even via mobile. The decoupling process significantly decreases the manual collection, sorting, and input of data into IT systems, resulting in reduced clerical errors.
While lab requisitions are being managed on the cloud-based platform, pathology samples continue to move through the lab, with status updates and results added to the lab requisition in the cloud. This streamlined process accelerates workflows, increases savings, minimizes errors, and ultimately leads to improved patient service and care.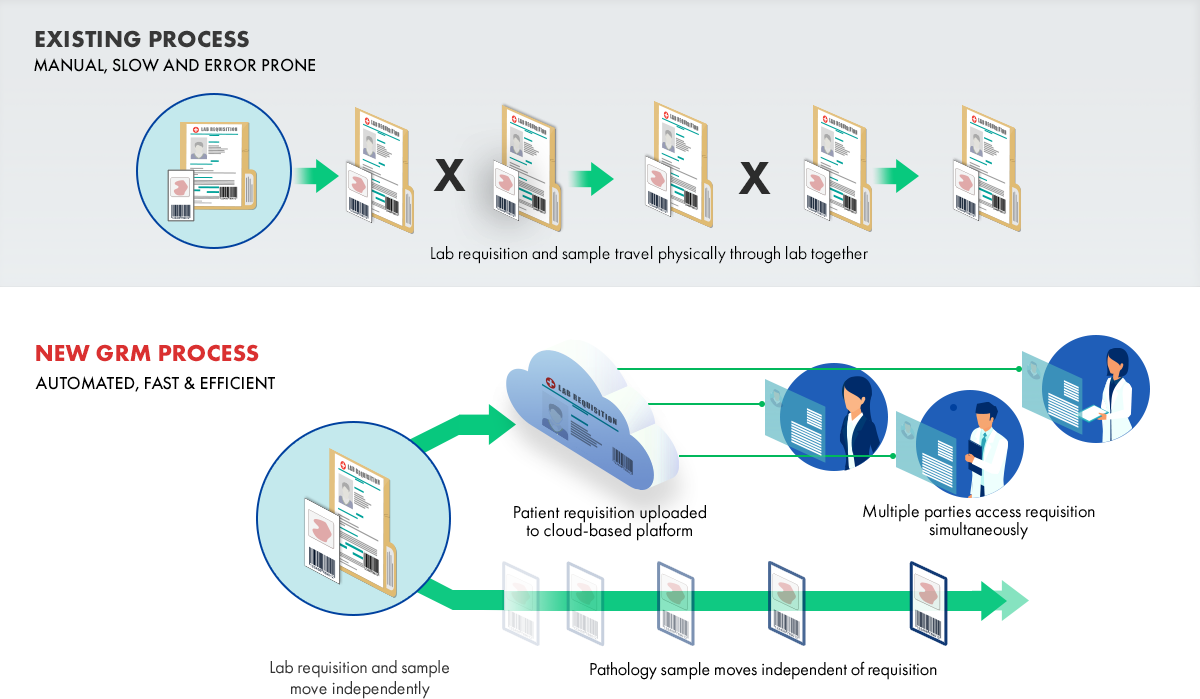 Offsite Storage and Integration with Digital Management
In addition to offering an advanced digital workflow management solution, GRM Information Management provides secure and cost-effective offsite storage facilities for valuable physical materials such as paraffin blocks, tissue samples, and microscope slides. By partnering with a company that specializes in both physical and digital storage and follows regulations related to pathology storage, pathology laboratories can streamline their storage management, reduce costs, and ensure the highest quality of care for patients.
With GRM Information Management, you can be confident in the secure and efficient storage of your pathology materials, both physical and digital. Our comprehensive storage solutions cater to the specific needs of pathology laboratories, providing peace of mind and allowing you to focus on delivering the best patient care possible. Partner with GRM Information Management and experience the benefits of a unified approach to managing your physical and digital pathology storage, all while adhering to necessary regulations.
Discover GRM's Comprehensive Pathology Storage Solutions
Ready to revolutionize your pathology storage and management? GRM Information Management offers a complete solution that combines secure physical storage with our innovative digital workflow management software. Experience the benefits of streamlined processes, increased savings, minimized errors, and improved patient care.
Explore Our Capabilities